updates
April 29, 2023
I got a new job a couple of months ago which has lead to the lack of updates on this site. I've also been spending a lot of my free time working on my etsy shop. I won't spam you with the link again as it's linked in the post below. I have a couple icon packs for phones and some twitch badges up right now. I'd like to get back to posting more specific content on here. I do miss it. Here are a couple new things: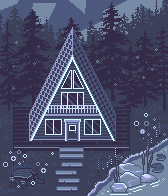 January 23, 2023
I forgot to include this in my last update but I started an etsy and currently have a cute pixel iOS/Android icon pack for sale. I'm very proud to say that I've already sold 5 of them! here's a link to my etsy store in case you are interested!
January 22, 2023
I've been busy with life stuff so I haven't been as dilligent about putting my updates in here. I've been re-working a lot of my old pixel art. Here are some before and afters of some isometric re-dos that I've done lately:

| | |
| --- | --- |
| | |
| before | after |
---
| | |
| --- | --- |
| | |
| before | after |
---
I also made this vegas style wedding chapel:

I've been lacking inspiration lately, but at least these little buildings have been so satisfying to make! Hopefully, I'll break out of this block and make some non-isometric art soon!
December 18, 2022
Not me slacking on the updates again *eyes emoji*. Here's what we've got since the last update
I changed the background on the main div box, the lack of contrast was bothering me.
Added more items to the dollmaker, which is still a work in progress.
Added a blog post about an old internet friend of mine.
created a shrine/mini site
san-x pixel art


new button


more neopets stuff
re-arraged my toyboxes to be easier to look through.
I'm still working on the HTML and CSS tutorials. Hopefully I will be able to finish those some time in the next few weeks.
December 7, 2022
I cleaned up some word salads that I had thrown together when I first opened the site. I like making art much more than I like writing and don't spend as much time as I should on text content. I also combined some redundant pages and added a little bit of pixel art. My favorite thing from this update is this little castle I made based on a toy I had as a kid.

December 5, 2022
I'm really bad at updates so a lot has changed since October and now. I have added many pages of content, made a new layout over the weekend, which I will need to re-code for mobile but we will cross that bridge when we get there. I do want to show the progress I've made over the last 3 months with my pixel art.
December 2022

October 2022

September 2022

It's really motivating for me to see that I'm making visable progress in my artwork and I hadn't really noticed until I was clearing out some folders today. Anywway, here are some clubs that I've joined in the last couple of months

Here's what I'm currently working on:

I'm also going to make it a goal to update at least weekly from now on if I'm actively working on the website.
October 14, 2022
I haven't been adding my updates to the log at all recently but there have been too many updates to name, I've separated sections of the site, added new artwork, links etc. I will leave you with a cute kitty I recently made for a halloween contest at Pixel Garden MB
October 1, 2022
I finally wrote my about page, also added some new pixel art, a couple buttons and added some things on my link page.