history of the sidekick
The T-Mobile Sidekick, originally called the Hiptop was an iconic smartphone conceived in the early 2000s. The Hiptop, designed by Danger Inc., was one of the first phones to offer a high-speed internet connection, a QWERTY keyboard, a swiveling display, and a cloud service to back up data.
The Hiptop was first unveiled in 2001, but was not launched until 2002 when Danger, Inc. finally struck a deal with T-Mobile, which agreed to launch the Hiptop under a rebranded name: the Sidekick. The Sidekick was marketed as a fun and hip alternative to the more serious and business-oriented smartphones of that era (Palm Pilot, the Nokia, BlackBerry). The Sidekick appealed to a younger and more diverse demographic, who appreciated its unique design, easy-to-use interface, and its social features.
The Sidekick gained a lot of exposure and popularity through its association with celebrities who often used the device in public or featured it in their music videos, commercials, and TV shows. Some of the famous Sidekick users included Paris Hilton, Lindsay Lohan, Snoop Dogg, Kanye West, Jessica Simpson, and Kim Kardashian.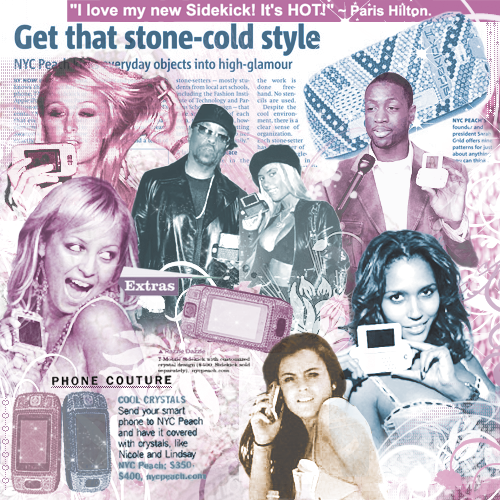 The Sidekick went through several iterations and improvements over the years, such as the Sidekick II, the Sidekick 3, the Sidekick iD, the Sidekick 2008, and the Sidekick LX. We will not be addressing the Sidekick Slide because, in my opinion, it is not a real sidekick. Each new model added new features, such as a color screen, improved camera, larger display, and a thinner design. The device also spawned several limited-edition models such as the Juicy Couture Sidekick II, Mr. Cartoon Sidekick II, LRG Sidekick 3, Dwayne Wade Sidekick 3 and the Diane von Furstenberg Sidekick 3.
| | |
| --- | --- |
| | Original Sidekick |
| | Sidekick II |
| | Sidekick 3 |
| | Sidekick iD |
| | Sidekick 2008 |
| | Sidekick LX |
Unfortunately, the Sidekick could not keep up with the features offered by iPhones and Androids. People wanted sleeker and smarter devices that could do more than just messaging and browsing. The last model of the Sidekick was the Sidekick 4G, which was released in 2011 and discontinued later that year. The Sidekick left a lasting impact on culture and the mobile industry. Though it may be gone, it is not forgotten.